SONIC ALERT SONIC-CONNECT2 USB MEDIA ALERT
Product # SEC200

The SEC200 is a Portable USB Alerting Device that flashes a BRIGHT LED LIGHT, LOUD RINGER & VIBRATES (1 or all 3) which ALERTS you for E-MAIL, INSTANT MESSAGING SERVICES, MS OUTLOOK CALENDARS & TASK REMINDERS.
If you need to step away from your computer, run an errand, get a cup of coffee/tea, make some food . NO PROBLEM AS THE SONIC-CONNECT will alert you of an incoming communication.
**DON'T MISS THAT ALL IMPORTANT EMAIL OR CALL OR MESSAGE***
System requirements:
PC with Microsoft Windows XP, Windows Vista, or Windows 7. Available USB 1.0, USB 2.0 port.
Not compatible with Apple products.
Features
Alerts you to instant messages, email, and other computer notifications
Extra-bright white LED strobe flash, red LED waiting message lights, loud ringer and vibration
Plug-n-play compact device is great for travel or home
Uses standard computer USB port
Updates available at no charge at www.sonicalert.com/sec
One year warranty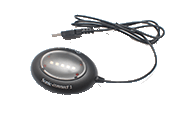 Price: $76.85