Artone TVB-Hearing Aid Transmitter
Product # ARTONEETVB

If you cant hear your TV, if your relatives or neighbors complain that its too loud- use TVB, it will transfer the audio signal from the TV directly to your hearing aid! You can adjust the volume to your specific needs, while others can continue listening to the TV speaker at their hearing level. Use the TVB, connect it to your IPod and enjoy the music coming directly through your hearing aids. The TVB is a small stylish device that can be easily connected to any audio source.
Or you just want to listen to morning news on your home radio when youre making breakfast across the room in the kitchen.
Use the TVB, connect it to your audio system, and put on the LoopSet and go cook breakfast up to 32 feet away with a clear sound transmitted wirelessly to your hearing aid.
Features
Can work both as a Transmitter or Receiver
TV transmitter, compatible with Artone 3MAX Bluetooth Neckloop
Amplifies clear sound from your TV
Others can listen to the TV at normal hearing level
Loud and clear sound, no delay or interference; perfect speech understanding
Range: 32 feet
Built-in rechargeable battery that provides long periods of operation and standby time
Charging time: 2 hours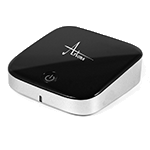 Price: $102.50



PRODUCT LITERATURE ENGLISH (PDF)