WILLIAMS SOUND SOUNDPLUS TV INFRARED LISTENING SYSTEM
Product # WIR237

The WIR237 SOUNDPLUS INFRARED TV LISTENING SYSTEMS is ideal for:
TV or STEREO LISTENING MEETINGS OFFICES LANGUAGE INTERPRESTATION OTHER SMALL GROUP LISTENING APPLICATIONS
It connect directly to your TV, VCR, or DVD equipped with standard udio ouput jacks.
The system features the versatile WIR RX237 RECEIVER with a 3.5mm jack, the listener can plug in a variety of stereo or mono earphone, headphone, or neckloop accessories.
The receiver's on/off swtich is conveniently built into the jack of the unit.
Includes:
1 of WIR TX238 Transmitter Receiver: Range is 30ft (9m) line of site
1 of WIR RX237 Receiver
!!!! LIMITED QUANTITIES AVAILABLE !!!!!
Features
WIR TX238 TRANSMITTER:
6.25"L x 3.25"W x 1.25"H (15.9cm x 8.3cm x 3.2cm)
5.1oz (140g)
Encased in a grey, ABS plastic, compact in design for easy mounting on top of a TV, VCR or audio equipment.
Has 6 infrared LEDs that can transmit a signal up to 30 ft (line-of-sight) at 6 dB of intensity.
A (2) two position slide switch for selecting stereo or mono (2.3/2.8 MHz) operation.
Two RCA jacks shall be available for mono or stereo line-level input at 200 mV to 10 V. A 3.5 mm jack shall be available for microphone input at 1.5 k.
A television microphone shall be included to directly pick up the audio of the sound source where there are no available jacks.
A battery charger for the RX238's BAT AP97A on each side of the transmitter.
Will serve as a charger for a single RX238 receiver plus two additional BAT AP97A batteries
Will automatically turn of after 5 minutes of no audio.
The transmitter shall have RoHS and WEEE approval and be covered by a (5) five-year parts and labor warranty.
The transmitter will be the Williams Sound Corp. model WIR TX238.
WIR RX237 RECEIVER
1.7 oz x (50g), with batteries
The receiver is an underchin unit with an IR detector lens in the face of the unit.
Is compatible with transmitters operating on 2.3 MHz/2.8 MHz.
Has a rotary-type volume control and the power switch is built into the jack, so that the unit will automatically shut off when the earphone or headphone is unplugged.
Has a left and right tone and balance control adjustable by a screwdriver.
Will operate for 6 hours per charge with 1 BATAP97A NiMH battery.
The receiver is housed in a black ABS plastic case.
The receiver shall provides 115 dB SSPL90 output (w/EAR 013).
The system frequency response is 200 Hz to 8 kHz, and the signal-to-noise ratio shall be 60 dB at 9 m.
The receiver has RoHS and WEEE approval and is covered by a (5) five-year parts and labor warranty
Warranty on the battery is 90 days
The receiver shall be the Williams Sound Corp. model WIR RX237.
*Only one additional battery is supplied with the WIR 237 system.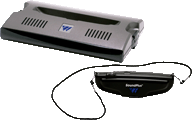 Price: $82.00





USER MANUAL ENGLISH & FRENCH (PDF)