Serene Innovations HI-DEFINITION Amplified (55+dB) TALKING CID Telephone
Product # HD65

This ALL NEW HD-65 features Serene's proprietary HD (High Definition) Sound Technology for un-matched voice clarity, making every word vividly clear and easy to understand (without any distortion, echo or squealing sounds commonly found in other amplified phones. With over 55dB of amplification.
HD-65 is ideal for those with moderate to severe hearing loss and for those who have tried but are not satisfied with other ordinary amplified phones.
Amplifies incoming sound UP TO 600 TIMES (over 55+dB) louder, the most powerful in its class.
FEATURES:
High-Definition Sound Technology for far superior and un-matched clarity, makes every work clear and intelligible, a new standard in amplified telephone technology
Selectable Digital Tone Settings; allow you to boost and enhance that part of the speech frequencies where you can't hear well, making difficult to hear words intelligible and easy to understand again. Once selected, you'll get the same precise clarity every time you use the phone.
Latest Digital Sound Processing technology; eliminates virtually all distortion, echo effects and unwanted static commonly found in other ordinary amplified phones
"OFF-HOOK AUDIO and VISUAL WARNINGS; to alert you that you've not properly hanged up your phone and thus prevent any incoming calls
LARGE & easy to see DISPLAY MENU in English, French or Spanish
TALKING CALLER ID enunciates the caller's number in English, French or Spanish
Easy to use phone book with incoming-call and dialed-call logs
Back-lit talk-back keys confirm (in English, French or Spanish) if you've pressed the desired key correctly
Voice-mail and Missed-call indicator for extra convenience
Six (6) easy to program one-touch speed dial buttons
Super louder ringer (95+dB) with adjustable ringing volume and tone
Two bright visual ringer flashers so you will never miss another call again
Battery back-up for full operation during power outage
Output jack for tele-coil, neck-loop and other assistive accessories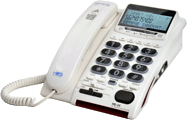 Price: $270.55



PRODUCT LITERATURE, ENGLISH (PDF)





PRODUCT LITERATURE, FRENCH (PDF)







QUICK USER GUIDE, ENGLISH (PDF)





QUICK USER GUIDE, FRENCH (PDF)